Join The Movement To Fight Hunger.
TOLEDO FOR MEALS is both a fundraiser and an awareness campaign created to help Mobile Meals better navigate rising food costs, supply chain issues, and increasing gas prices. While at the same time celebrating the great things that happen when this community comes together to make a significant impact.
Your donation will help Mobile Meals continue its mission — to help people in this community remain independent and enhance their quality of life by delivering nutritious meals. Will you help us reach the campaign goal of $50,000 so we can continue cooking, delivering food, and ensuring our clients are safe and well?  
Mobile Meals is spending 13.5 percent more per meal over 2019 (pre-COVID).
Due to the generosity of this community and our very loyal supporters, Mobile Meals' kitchen managed to prepare over 230,000 meals in 2021.
Being unable to hold in-person events has affected many non-profits. Mobile Meals saw a 34% decrease in in-person fundraising over the last two years.
Due to COVID, Mobile Meals had to cancel their 2020, 2021, and 2022 Chili Cook-Off fundraisers. The 2020 Cook-Off was canceled just days before Toledo went into lock-down.
After COVID hit, many Mobile Meals' volunteers continued delivering meals to clients following new COVID safety proceedures.
Isolation, malnutrition, and loneliness are just as deadly as smoking and obesity.
97% of programs, like Mobile Meals of Toledo, report there is still an unmet need for home-delivered meals in their community.
DONATE $30 OR MORE AND GET YOUR "I SUPPORT TOLEDO FOR MEALS" STICKER.
$30 can provide seven home-delivered meals to someone in need.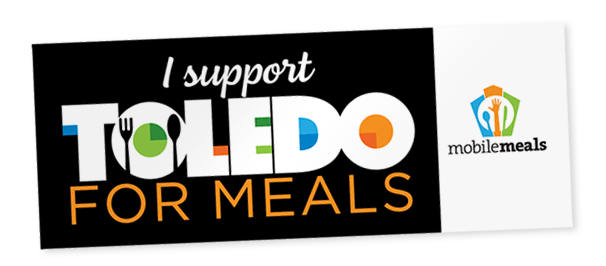 Donate & Join The Movement